22 janvier 2011
6
22
/

01
/

janvier
/

2011
09:00
Voici un petit vernis que j'ai depuis bien longtemps. Il est arrivé dans ma collection lors de ma seconde commande d'OPI, il a donc au moins 2 ans ! Ce n'est pas la première fois que je le mets, mais je n'avais, bizarrement, jamais réussi à le swatcher. C'est chose faite ! Il s'agit d'un magnifique framboise. La couleur est très profonde et étonnamment unique !
Here's a polish that's been in my stash for a long time. I bought it on the second time I ordered some OPI, so it's at least two years old! It's not the first time I wear, but oddly enough, I never ended up swatching it. Now it's done! It's a beautiful raspberry colour, with a very deep colour making up a completely unique polish.
J'en profite également pour vous parler de l'extraordinaire longévité des vernis OPI. Certains vernis de beaucoup d'autres marques deviennent pâteux très rapidement. Ce n'est pas le cas des OPI ! La preuve en est, il est parfait même après 2 ans d'ouverture !
I take the opportunity to point out the extraordinary longevity of OPI polishes. Many other polishes from other brands thicken very quickly, but not OPIs!! Proof is that it's still perfect after two years!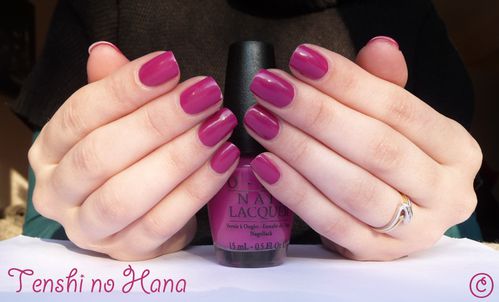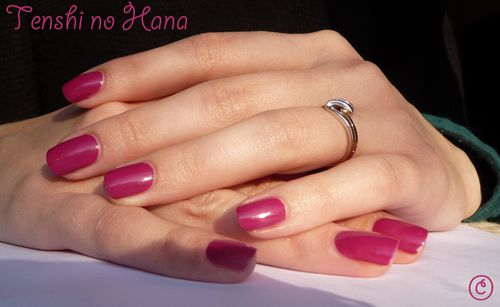 2 couches - sans top coat

Application : parfaite
Opacité : parfaite
Texture : parfaite
Séchage : ok

2 coats, no top-coat

Application: perfect
Pigmentation: perfect
Texture: perfect
Drying time: ok